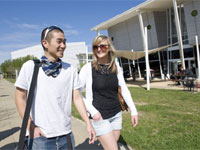 Monash University has introduced a new nursing degree to be offered at the Berwick campus from 2012 (pending final approval).
The Bachelor of Nursing (Community Health) has been developed in response to changing health care needs in the community.
An ageing population, growing numbers of people living with chronic illness, and ever increasing hospital costs have contributed to a rising need to provide health care in the local community.
Community-based nurses provide health promotion, early intervention, education, treatment and referral. They work in community health centres, general practice, Royal District Nursing Service, schools, universities, local councils and in patients' homes.
As well as excellent clinical skills, nurses working in the community require skills in communication, health promotion, education and organisation.

School of Nursing and Midwifery Associate Professor Lisa Kenna designed the new course to provide a broader range of skills than taught in traditional nursing programs.

"There is a growing need to educate nurses to provide care in the community and prepare nurses for employment in a wider variety of health care settings," she said. "This course addresses a growing dimension of health care that many preparatory nursing courses do not."

Professional nursing organisations such as the Royal College of Nursing Australia have also identified the need for a course that provides nurses with the skills and knowledge to provide health care in both hospitals and community contexts.

The increase in people living with chronic diseases such as diabetes and asthma has led to a growing need for nurses working in local clinics to monitor health status, provide education in self-management, and liaise with specialists and support groups.

Health promotion is another important area for community-based nurses. Working through schools and local councils, nurses provide education around sex, drug and alcohol use, obesity and other lifestyle concerns.
Ageing, palliative care and child health also benefit from the delivery of health care in the community.

The Bachelor of Nursing (Community Health) includes the same fundamentals of clinical nursing skills and biosciences as the university's two other undergraduate nursing degrees: the Bachelor of Nursing offered at the Peninsula campus and Bachelor of Nursing Practice at the Gippsland campus.

Graduates of the new course will be qualified to register with the Nursing and Midwifery Board of Australia and will be prepared for employment in traditional health care settings such as hospital wards as well as in the community.

Students will spend about 50 per cent of the course on clinical placement, in hospitals as well as community settings such as general practice and community health centres. They also attend lectures, tutorials and practice their clinical skills in nursing laboratories.